BODY COLLAGEN 150 G (3 REFILL POUCHES)
BODY TONING SUPPLEMENT
Collagen supplement for whole body
Designed particularly for people with active lifestyle
Suitable also for elderly people
Anti-ageing collagen product
May increase muscle and bone mass
May strengthen the connective tissue
May offer aid in fat loss
High-quality hydrolyzed collagen powder
Contains only superior collagen powder without any additives
Good solubility
Virtually tasteless powder
Halal and kosher approved protein powder raw material
Suggested daily dose is 5–15 g
Easy to use
Only mix powder with water or juice
Made in Europe
Collagen from bovine
Free of flavors and sweeteners
450 g (3 x 150 g, Unflavoured)
Product details
HEALTHY COLLAGEN

Body Collagen is a healthy collagen peptide powder, that is designed for body toning and is suitable for people with all ages. These high-quality collagen peptides may provide help with fat loss, retain mobility, increase muscle mass and improve strength.

Muscle loss is a natural outcome of ageing. Lack of exercise may cause the loss of muscle mass up to 1% per year after the age of 40, and even up to 1,5% per year after the age of 70. Muscle mass is not the only thing that starts to decrease as we grow old, but we also become weaker in physical strength, which might cause challenges in our daily life.

Best way to fight against age-related muscle and strength loss is to combine physical exercise and customized nutritional supplements. Protein is one of the major nutritional factors for maintaining proper muscle mass and muscle function while ageing. Especially collagen is one of the major protein sources, which provide vital nutrients for our muscle cells and other human body cells.

Hydrolyzed collagen peptides have been studied for potential enhancement of muscular strength. These clinical studies have shown that certain hydrolyzed collagen peptides, that are also used as the only ingredients in our Body Collagen product, may have a positive effect on muscle and fat metabolism. These collagen peptides are easily absorbed by the body and are now available without any unnecessary additives.

Just mix one serving with your desired drink and enjoy.


Nutrition Facts
Nutrition Facts (per 100 g)
Energy (kJ/kcal)
1502 / 359
Protein
90 g
Carbohydrates
0 g
Lactose
0 g
Fat
0 g

Nutrition Facts (per serving)
Serving Size: 5 g
Energy (kJ/kcal)
75 / 18
Protein
4,5 g
Carbohydrates
0 g
Lactose
0 g
Fat
0 g
Collagen peptides for body toning
5 g

Ingredients
Hydrolyzed collagen peptides in powder form (for body toning / bovine)
Additional Information
| | |
| --- | --- |
| Designed for | Body toning and general health |
| Flavour | Unflavoured |
| Serving instructions | Mix one to three servings of powder daily with water or juice (serving = 5 g = 2 teaspoons). Mixes instantly with liquids. You may also use smaller or bigger quantity |
| Servings per container | 90 servings (3 x 30 servings) / 3 pouches |
| Storage information | Keep tightly sealed and store in a cool, dry place out of direct sunlight |
| Made in | EU |
| Allergens | Allergen-free product made from bovine. Not suitable for vegans and vegetarians |
| Note | If you are pregnant, nursing or have a medical condition, consult your physician before use |
| Notice | These statements have not been evaluated by the Food and Drug Administration. This product is not intented to diagnose, treat, cure, or prevent any disease |
| Categories | BUY COLLAGEN |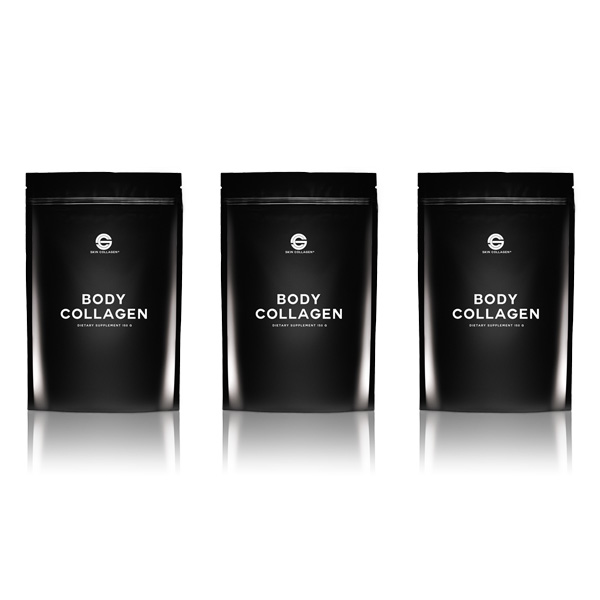 BODY COLLAGEN 150 G (3 REFILL POUCHES)
Price: €72.46 - In stock
ALSO AVAILABLE
HEALTHY COLLAGEN FOR BODY TONING